PUBLIC AUCTION ON THE PREMISES OF AIM SHEET METAL INC.
TUESDAY, JANUARY 18, 2022 AT 10:00 A.M.
Auction Type: Public Auction
Categories: Public Auction, Manufacturing & Industrial
Description of Property:
Shear, Press Brakes, Manual Brake, CNC Plasma Cutters, Welders, Roll Former & Rolls, Rolling Stock, Support Equipment and More!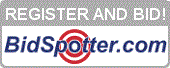 Description:

SHEAR
WYSONG 1010 Shear, 10-gauge cap., 120" cutting length, squaring arm, foot brake, s/n P8-338.
1999 MAY TOOL MTC-42 Circle Shear, 16 ga. x 42" cap., 3,500 RPM, s/n 1518.
PRESS BRAKES
CHICAGO 1012-L Press Brake, 12' cap., 12-gauge cap., 90-ton cap., 3" stroke, 8" throat depth, 5 HP motor, foot control, s/n L-13035.
DUAL PRESS CO. 40-10 Press Brake, 40-ton cap.,10' cap., 2-1/2" stroke, 3" ram, foot control, s/n 307.
MANUAL BRAKES
CHICAGO W-74 Manual Brake, s/n 68107.
Chicago W-34 Finger Brake, 48" x 12 ga/ cap.
CNC PLASMA CUTTERS
VICON DL-8000 Hypertherm PowerMax65 Plasma Cutting System, Airtek air dryer, dual twin drive, 5' x 20' table, s/n VM-2297.
HYPERTHERM PowerMax 800 Plasma Cutter, s/n n/a.
WELDERS
ACME 1-30-15 Spot Welder, 15 kva, 30" throat, 5" gap, s/n 12989.
LINCOLN Idealarc DC-250 Welder, Lincoln LN-7 wire feeder, s/n n/a.
COMIBINATION ROTARY MACHINE
WHITNEY ROPER Pexto 3617 Combination Rotary Machine, 18 ga. cap., 1/2 HP motor, foot control, s/n 913-398.
DUCT BEAD
TIN KNOCKER TK-1660 Duct Beader, 60" x 16 ga. cap., 1 HP motor, s/n 031502M.
ROLL FORMER
2014 JINWOONGTECH TDCF+C-Clip Roll Former, 19 station, s/n 14-1121-US-SM-RF.
ROLLS
ROPER WHITNEY Pexto 418E Power Roll, 4' x 18 ga., 420 RPM, 26 FPM s/n 43.
ROPER WHITNEY Pexto 381-D Manual Roll, 3' x 2" rolls, s/n 9219-12-02.
FASTENING CENTER
GRIPNAIL 448 Fastening System, s/n 1715FP.
ROLLING STOCK
2016 FORD F-250 Pickup Truck, V8 motor, 2wd, single cab, material rack, weatherproof toolbox, 13,420 miles, auto. trans., heat/ac, am/fm/cd, VIN 1FTBF2A63GED24966.
2005 CHEVROLET 3500 Dually Stake Bed Truck, V8 motor, 2wd, single cab, 12' flatbed, electric lift gate, toolbox, 23,360 miles, heat/ac, am/fm, VIN 1GBJC34U45E218483.
2004 CHEVROLET Tahoe SUV, V8 motor, 4wd, 4-door, leather seats, 179,020 miles, heat/ac, am/fm/cd, VIN 1GNEK13V54R288734.
YALE GP060RCJUAE100 Forklift, 6,000-lb. cap., pneumatic tires, 60" forks, 3-stage mast, tilt, s/n L383267.
UPRIGHT 068001 Electric Manlift, 25', 350-lb. cap., e-stop, solid wheels, s/n 19798.
SAW
WALKER TURNER 3331 Vertical Bandsaw, s/n 33-0810.
AIR COMPRESSOR
INGERSOLL RAND Type 30 Air Compressor, 2-stage, 10 HP motor, 60-gallon tank, s/n 20497.
MISCELLANEOUS
Lock Formers, Finger brakes, Misc. Hand & Electric Hand Tools, Pallet Jacks, DI-ACRO No. 18 Turret Punch, Misc. Hardware, Tool Boxes, Uni Punch Dies, Press Brake Dies, GENIE Material Lifts, Drill Presses, Ladders, Flame Cabinets, ROPER WHITNEY Combination Rotary Machines, PEXTO Acorn Table, Hardware Cabinets, Table Vises, Bar Clamps, Portable Compressor, Misc. Material, Cantilever Racks, Extension Cords, Welding Tables, Shop Tables, Banding Cart, Torch Cart, Shop Carts, Shop Fans, Office Furniture, CANNON Plotter, Drafting Table, Gas Cans, File Cabinets, and More!
Contact Information:

Contact: Ryan Ashman
Company: Ashman Company Auctioneers and Appraisers
Address: 1415 Oakland Blvd. #200, Walnut Creek, California 94596
Phone: (925) 256-8111
Inspection:
PREVIEW: Wednesday, August 11, 2021 From 9:00 A.M. to 2:00 P.M.